Back
BONSILAGE at the World Dairy Expo 2021
Last week our BONSILAGE team attended the World Dairy Expo in Madison, Wisconsin. But this Expo wasn't just about seeing impressive cows. Visitors had the opportunity to learn more about our silage inoculant BONSILAGE and speak with our team of silage experts.

After missing last year's show due to COVID-19, we were there with bells on. Stopping by our booth meant having the opportunity not only to learn more about BONSILAGE, but also to play FARMING SIMULATOR, take your chance at a fortune wheel, and test your silage knowledge with the ultimate sniff test.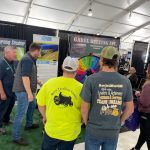 SILAGE SMELLING STATION
Smell is an important indicator of the health and quality of your silage. And we put the noses of World Dairy Expo attendees to the test with a fun, but important, sniff challenge. Visitors smelled at three different samples. They were charged with identifying the smells and causes for the smell.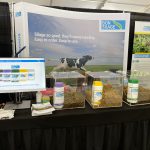 The samples included in the sniff test were treated with various BONSILAGE products:
CORN+, FORTE, and ALFA.
The corn silage sample was treated with the BONSILAGE CORN+ inoculant.

Our product's fermentation created a slightly sweet, vinegar smell from lactic acid, acetic acid, and 1,2-propanediol (propylene glycol production).

For the two haylage samples, one was 30% DM and the other was 35% DM.

The 30% was treated with BONSILAGE FORTE.

The lower DM sample smelled of stronger acids due to higher moisture levels.

The 35% was treated with BONSILAGE ALFA.

The higher DM sample smelled of a "hay" smell with a slight smell of sweet vinegar.

Both samples lacked the putrid smell of butyric acid.
This demonstrates FORTE and ALFA's ability to combat clostridial fermentation in high-risk environments.

Furthermore, it should be noted that all samples remained aerobically stable (did not heat).
FARMING SIMULATOR
Visitors were able to get a sneak peek at the upcoming release of the new FARMING SIMULATOR. It will feature BONSILAGE®. This will be the first-ever silage additive featured in the game. FARMING SIMULATOR will release a new version on November 22, 2021. Set your calendars to make sure you don't miss out on the release 22.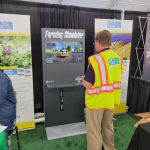 BONSILAGEUSA Gallery of the World Dairy Expo 2021, Madison:
See you next year, World Dairy Expo!
Didn't have the chance to meet us at this year's show? Reach out today to speak to one of our silage experts. We hope to see you at next year's World Dairy Expo HERE!